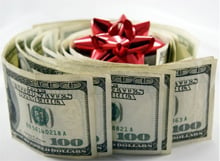 As the online casino industry expands and becomes progressively more competitive and online casinos are forced to vie for new players' attention in an increasingly cluttered online market space.
As such, in recent years we have seen many amazing online casino bonuses emerging in an attempt to attract attention and entice new players into visiting the casino. While this may seem great as a player, there is something that should be kept in mind – the terms and conditions behind the bonus offering!
While the bonuses may seem to be increasing in generosity on an on-going basis, what we've noticed most recently is that the wagering and/or play through requirements at many casinos have increased in proportion to their offerings. Some that once had wagering requirements of 25x the bonus plus deposit now carry a requirement of 35x or 40x these.
This means that ultimately you may not be receiving more at a casino with a huge bonus offering than you are at one with a smaller offering that carries lower wagering requirements.
It is therefore more important than ever to read through the terms and conditions that apply before playing at an online casino, especially if you are making your decision based primarily on their bonus offering.