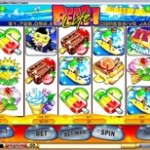 In May of 2007, Playtech launched its very popular Beach Life game, a 5-reel 20-payline Progressive Slots game with a tropical summer theme. Since then it has paid out some significant wins. The latest and largest win, which we were told occurred this week, is a jackpot totalling $4.2 Million!

At this time, we have not received the official word as to who the lucky Player is or at which Playtech casino he was playing. We do know that Playtech is preparing to release a formal statement with all the winning details and, once it's out, we will give you the scoop.
In the meantime, our heartiest congratulations go out to the lucky winner whomever he/she may be. We're sure that this jackpot win will be a life changing experience for him/her.
Just because the summer is almost over doesn't mean that Playtech's jackpots will be. Head over to Casino Del Rio for some Progressive Slots action worth $4.7 Million in total and good luck!
HOT SLOTS TIP: Bet the maximum number of coins when playing any Progressive Slot machines. This is the only way you will qualify to win a JACKPOT.