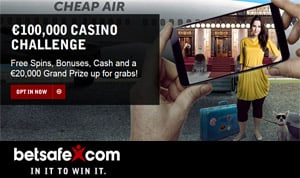 Take up the challenge at Betsafe Online Casino
Betsafe Casino invites you to take up the challenge and become the champion of champions. You won't need natural talent, good looks, physical gifts or training to stand out from the rest, it's the ability to rise to the challenge and win!
Each week Betsafe is giving players the opportunity to win a share of €100,000 including Free Spins, Bonuses and Cash!
All you have to do is conquer any of their weekly challenges which involved finding or guessing a certain casino game and/or wagering to emerge as one of 11 Champions in order to enter the semi-finals and then select any of the championship prizes including Cash Prizes, VIP trips, sporting event tickets or some of the coolest gadgets making up the €100,000 prize pool.
Then as one of the finalists you will compete in a series of Blackjack Tournaments where you can put your blackjack skills and strategy to the test and the victor will be crowned Betsafe's "All Time Champion", walking away with a massive €20,000 cash prize.
To take part, all you have to do is follow the instructions posted in each weeks Challenge, then complete the challenge and choose the prize that you would like to win. If you make it to the semi-finals you'll compete in one of the Betsafe Blackjack Tournaments on the 20th or 21st of August 2015.
The top three champions in each semi-final will advance to the Final Round Blackjack tournament where they will be given a set number of chips, and the last player left with chips will be the victor who claims the €20,000 cash prize.
So if you're a casino fan and avid blackjack player and fancy yourself a champion, then visit Betsafe Casino now to enter! There are only 6 challenges left, so hurry!