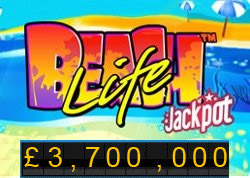 Be the next big winner!
Playtech's Beach Life Progressive Online Slot is one that most slots enthusiasts have had their eye on for some time due to the fact that it recently exceeded the £3.5 million mark. Of course, every big jackpot must payout eventually and this week a UK based player known as "Hilton" hit the jackpot and walked away with a massive £3.7 million win.
This jackpot total is the second largest in Playtech's 16 year history, making Hilton an exceedingly lucky guy. According to BGO Casino where the Jackpot was won, Hilton (not Paris Hilton who is a brand ambassador for the firm) played 50p per line (or £10 per spin) to unlock five sunshine symbols and change his life forever.
Beach Life is one of Playtech's most popular progressive slots titles and also holds the record for the largest ever Jackpot win amounting to an unbelievable $8.2 million in February of 2012.
The £3.7 million prize is a whopping 379,904 times Hilton's original bet and to put it all in true perspective, around 142 times the average U.K. salary.
When interviewed about his life-changing win, Hilton who has chosen not to reveal his identity, was still in shock, commenting that things like this always happen to other people. He said that as yet he does not have plans to spend the money but will be treating his parents to a bungalow and ensuring that his nieces and nephews get a good start to life. The player was due to go away on holiday in the UK, but we're sure he'll be setting his vacation sites a whole lot further afield in future, if not enjoying the beach life permanently.
COO, Shimon Akad related that the win was a tremendous one on one of Playtech's most popular slots and at one of their newest licensees (BGO casino went live on the Playtech platform earlier in 2015). He added that the news was an indication that Playtech's Casino Jackpot Network continues to deliver outstanding results for players.
While it may seem like sunshine and roses, there is a downside to not playing at big UK based operator names like William Hill Casino Club, and that is the fact that not all Playtech powered online casinos payout big jackpot wins like Hilton's in one lump sum. BGO for example does have a clause which states: Players may withdraw a maximum of £5,000/£25,000/£100,000 per day/week/month. At its sole discretion, the Company may increase these limits at an individual player basis. Whether management will increase the amount for Hilton is unclear, but if not, it will mean that they could take a tedious 3 years to payout the full sum whereas William Hill Casino Club will payout the entire amount in one shot.
And with Playtech's Progressive Jackpot machines all surpassing the £1 million mark of late, including Monty Python's Spamalot at £1.8 million, Jackpot Giant at £1.6 million and Funky Fruits at £1.1 million you definitely want to be playing somewhere that will give you your money all at once should you be the next lucky millionaire.