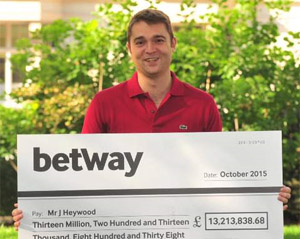 Jon Heywood is the lucky winner of
the £13 million Mega Moolah Jackpot
Last week we announced that the £13 million Mega Moolah Progressive Jackpot had been hit but that details were still forthcoming. This week, Microgaming announced that the big win happened at Betway Online Casino and that the lucky winner is a 26 year old soldier and Afghanistan veteran who has chosen not to remain anonymous.
Jon Heywood hit the Jackpot on the 6th of October 2015 after placing a bet of just 25p on the Mega Moolah Progressive Jackpot Slot. In spite of winning the life-changing sum, he was asked to remain mum on the subject until the win could be validated and made public, so instead of celebrating straight away, he had to act as though nothing happened and even went to work the next day.
Now, this week after the win was validated, the news has been made public and Heywood has spoken out on the subject of what he has planned for all that cash. First on the list is attending to his father's health and buying him the best medical treatment possible as he is currently awaiting a lung and heart transplant. Heywood says that family is his first priority and that he'd give all his money to see his dad back in perfect health.
In addition to a family holiday aboard a Mediterranean Cruise, Heywood who currently owns a Fiat Punto would like to upgrade his ride to a yellow Bentley Continental GT – a car which he says he has never even dreamt of driving let alone owning.
As part of the Microgaming network that pays out all Progressive Jackpot wins in a single lump sum, Heywood will receive his prize money in full – something that is not common practice at all online casinos as some impose limits on payouts which means that huge jackpots like this one can take years to be paid out in full.
Since the win, the Mega Moolah Jackpot ticker has been reset to its default total of £1 million and is already steadily climbing as it awaits the next lucky winner.