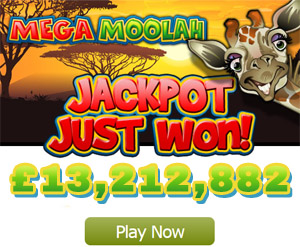 Slots players have been avidly following and playing the Mega Moolah Progressive Slot which has been steadily climbing upwards through the multi-million marks over the past few months.
Now the online casino player community is abuzz at the news that the massive £13,212,882 Mega Moolah Progressive Slots Jackpot has been hit! Early yesterday morning we realised that the Mega Moolah jackpot counter had been re-set to the $/€/£ 1,000,000 mark and later in the day, although no official announcements had been made, player forums featured discussions on the topic.
At present all we know is that the progressive jackpot was won in British Pounds (GBP) – as Microgaming generally adds any currency difference back to the next re-set figure if it is won in Dollars or Euros, which means that the exchange rate deficit then benefits the next winner. This time however it was reset to 1 million, which means that the highest possible amount was won by the lucky winner.
Details on who has won and which Microgaming powered online casino they were playing at are still forthcoming and Microgaming has not released any statements regarding the big win as yet, nor have any of the online casinos within its network, but as soon as we have the details you'll know!
According to reports, once official, this win will represent the second largest win in online Progressive Jackpot history, and is the 25th Mega Jackpot win since 2009. Only one other win to date has been greater – the Mega Fortune Jackpot from Net Entertainment which paid out at €17,861,813 in 2013.
The Mega Moolah Progressive Mega Jackpot is Microgaming's most popular jackpot which can be won by playing any of the games linked in the series which include Batman: The Dark Knight and Mega Moolah Summertime slots. The jackpot pays out, on average, every 12 weeks.
As mentioned previously, the slot has already reset to its default 1 million mark, so even if it pays out sooner, the winner will enjoy a life changing win.