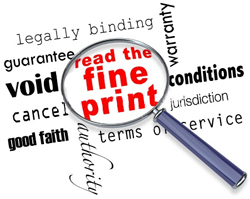 We are always on the lookout for the latest and greatest in casino bonuses and promotions so that we can bring you the best offers from across the online casino industry but this week we noticed something that bears mentioning and that you should keep in mind before signing up at a casino to accept their bonus, and that is the fine print.
Now we have stressed the importance of reading the terms and conditions of bonuses and promotions before so we won't give another lecture on that, but just keep in mind it is EXTREMELY important and can save you a lot of time, hassles and disappointment, because when it comes to online casinos, the devil truly is in the detail, of the fine print that is!
That said, we saw a bonus offer from an RTG powered casino, which we generally don't recommend for a variety of reasons, one of which was reinforced when examining their latest offer which included three match bonus offers for table games players. Seeing any offers for table games, let alone generous ones like these caught our attention.
Upon closer examination of the three match deposit bonus offers, we discovered the fine print which read that these bonuses could be used to play any table games except Roulette, Craps, Baccarat, Sic Bo, Pai Gow, Bingo or casino poker. So what does that leave? Basically only Blackjack. So rather than being a "table games bonus" this offer is effectively only a Blackjack Bonus. Imagine how upsetting that could be if you're an avid Craps or Roulette player, make your deposit and then learn that the bonus doesn't apply?
It's also a good example of how some online casinos twist promotions to sound like something they aren't to get people to deposit money which they know will inevitably be spent on something else if it can't be used for the game they want to play.
Obviously this is not the smartest move on the casino's part as it can aggravate people and lose them their patronage, but this doesn't seem to stop some groups, so beware! Reading the fine print is essential! And if you are still in any doubt, check out our rogue and blacklisted list of online casinos or join the player forums and ask around before putting your hard earned money into an unfamiliar casino whose offers seem to be too good to be true.