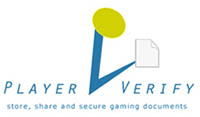 As any seasoned online casino player will tell you, there inevitably comes a time when you will need to verify your identity with the casino by submitting a variety of documents. Sometimes documents are required when you sign up for a new player account but more often than not, these requests come when cashing out a big win and the process can sometimes be frustrating enough to put a slight damper on your winning mood.
There are number of reasons online casinos require player documentation including mandates by regulating authorities, to prevent the opening of multiple player accounts as well as to prevent fraud and identity theft as well as the wrongful access of your account. The verification processes are in place to protect both players and the casinos, yet this somehow doesn't make the process less painful!
Thanks to a new organisation PlayerVerify.com however, these issues may soon be a thing of the past! This online service eases the process for both the casino and the player by providing a hub and secure technology required to facilitate the verification process electronically. According to Mark Dalton, spokesperson for the group, the verification process entails matching details furnished by players with relevant documentation such as identification documents, passports or driver's licence details. Players are able to securely login and submit all of this documentation to PlayerVerify and are given a secure access code to this information which they can then give to the casino should they be asked for documents.
This process eliminates the need for scanning, faxing or sending e-mail through unsecured channels and gives the player more peace of mind when submitting such sensitive information. Also, all documents can be uploaded once without needing to re-scan and re-send them every time a casino makes a verification request.
In addition to the peace of mind of a highly secured account, players can view real time data pertaining to which online casino is accessing their details and also whether the documents are acceptable to the casino in question or not. Once the casino has viewed the necessary documents, the player can then lock their account, denying the casino any further unauthorised access.
While the program may seem very player focussed, online casinos also benefit from it as they will not have to sit with piles of hard copies of documents or have the responsibility of storing this information securely. PlayerVerify also offers the casinos online approval services where they can submit requests for additional player information if required and the entire process is managed on their behalf.
So if you're a regular online casino player, why not try PlayerVerify and make your casino verification processes a whole lot safer and easier to manage.