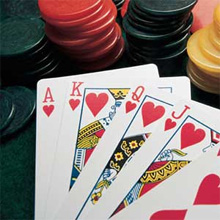 When it comes to card games, Poker and Blackjack are two of the most popular and played casino games across the globe. Online casinos have however revolutionised access to more niche and specialised games and here we look at 5 of the most popular card games and what makes them attractive to casino players.
Pai Gow
The game of Pai Gow which is said to be the precursor to Baccarat originated in China centuries ago but is now easily accessible at reputable casinos like Jackpot City Online.
Played with 52 cards and a joker card which substitutes as an ace, Pai Gow is a highly entertaining game. The table resembles that of blackjack but players may act as dealers too. The main objective is to beat both of the dealer's hands and ties may result if only one of the player's hands equals or beats that of the dealer.
Baccarat
Baccarat was made famous by James Bond and has intrigued many for decades. While it may seem like an intimidating game it really is quite the opposite! This game is easy to learn, fun to play and has the potential for high returns thanks to a low house edge of 1.06% on the best bet.
While Baccarat is usually reserved for VIP rooms at brick and mortar casinos, you'll have easy access to it at online casinos and can play for free while you familiarize yourself with the three betting options, namely Banker, Player and Tie until you feel comfortable enough to play for real money.
Punto Banco
Punto Banco is a variation of traditional Baccarat that is popular in the US, Canada and many European countries. It is also widely available at both Playtech and Microgaming powered online casinos.
Similar to Baccarat, players are able to wager on either the banker or player in the game with the goal of scoring 9 or as close to it as possible with the main aim being to play a better hand than your opponent.
Casino War
This game is a popular variation of the children's game of war. It is simple to learn and play and while it doesn't have the best odds, is still highly entertaining.
In a game of Casino War, players compare their cards to those of the dealer and either declares "war" or surrender if a tie occurs. If a surrender results the player loses half of his/her original wager.
This is definitely a fun departure from the usual casino card games and definitely worth your time.
Solitaire
Based on the classic card game, Solitaire is often available at online casinos. There are also a number of variations of this including Aces Up and Aces High Solitaire which will keep you entertained for hours on end and even offer you the opportunity to pick up some cash wins along the way.
For the more adventurous player, look out for 3D Battleships solitaire games where you have to break a record before the time runs out.