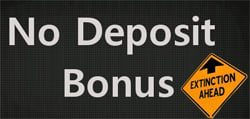 If you're a veteran online casino player you may have noticed (to your dismay) that very few online casinos offer no deposit bonuses these days. You may too have wondered why this has happened, after all, these bonuses were very prolific for a number of years and really went a long way in helping you to test out a new casino or casino software platform and even enjoy a few free rounds on your favourite casino game.
The main reason why few online casinos offer no deposit bonuses can largely be attributed to the sheer number of bonus abuse and fraud cases that they had to contend with over the years and the countless man hours that were invested in resolving these.
Another reason that we have seen a decline in no deposit bonuses can also be attributed to the fact that the industry is maturing and many players have realised that no deposit bonuses often carry complex wagering requirements, with many ultimately requiring a deposit to withdraw funds over a certain amount. This makes genuine deposit offers with more favourable wagering requirements a far better option for serious players. The new generation multi-deposit bonus offers are even more attractive as casinos move towards rewarding repeat and loyal casino players.
As the industry has matured, online casino offerings have also evolved with "Free Spins" and "Free Credits" offers now being the most common replacement for no deposit bonuses. Essentially they are very similar but many do require a deposit to cashout or transfer winnings to a real player account so essentially they are not free.
While we may have seen a decline in the completely no strings attached no deposit bonuses, some casinos do still offer them, but for the most part it is better in the long term to make a small deposit when trying out a new online casinos, especially for testing purposes and if you win you'll be assured of cashout once the wagering requirements are met, with no need for additional funds to be deposited.
Another great way to try out a new online casino is to make use of the "Free Play" function. While you may not win anything, you also won't lose anything, and if your motives are purely "testing" out the software, this can be very effective and highly enjoyable – for the short term anyway.