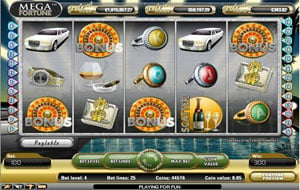 Play the millionaire making Mega Fortune Slot!
Something strange and wonderful has been going on at online and mobile casinos this month…all across the net, players have been hitting life changing jackpots! Some of the biggest wins of the month have taken place at Betsson Casino, with not just one but two large jackpots being hit by two lucky players, both from Germany!
The first and largest jackpot totalling a whopping €3,023,721 was won by a 23 year old woman whose €0.50 bet made her Betsson's latest multi-millionaire.
According to the winner who has chosen to remain anonymous, after signing up at the casino she immediately downloaded the mobile app and received a message about the Mega Fortune promotion which peaked her interest. So as soon as her kids were in bed, she and her husband decided to play and the impossible happened…they hit the jackpot and ended up jumping around their living room.
The couple who live in Hessen Germany with their young family plan to share their winnings by donating a portion thereof to a local children's charity, which means that not only their own young family, but many others will benefit from their good fortune.
The second winner, a 29 year old man from Hannover, Germany hit a €553,064 on Dream Chance jackpot in Oily Business after wagering just €2.50! Talk about returns!
The player, who had just signed up to the casino was still playing with his first deposit on his mobile phone when he won the jackpot.
According to the man, he had been suffering from insomnia and was trying out his newly downloaded Betsson app when his luck changed and he just stared at his phone in disbelief before telling his girlfriend what had happened.
These two wins just go to show that no matter where you are your luck can change at any time and while you're enjoying your favourite casino games, you may just become one of Betsson casino's next big winners! So play now!